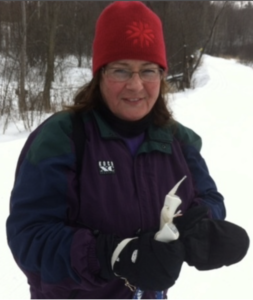 Last September 4, 2021, PAL Canada Foundation and its community lost a true champion of the arts and a dear friend and supporter of the PAL mission. Alison Atkins was one of the co-founders of PAL Ottawa and served on the board of PAL Canada from July of 2016 up until her untimely passing when she was serving as President.
Alison would be thrilled to see the results of her hard work and direction coming to fruition through all of PAL Canada's developing virtual community programs initiated during the last months of her life as President of PAL Canada Foundation.
Out of respect for her incredible contribution to her community in Ottawa and across the country, her family wanted to wait until they were able to properly pay tribute to Alison and publicly acknowledge her legacy.
A celebration of Alison's life will be held on Sunday, May 29th from 1:00pm to 4:00pm at the Billings Estate grounds, 2100 Cabot Street, Ottawa.
Below please find an obituary for Alison published yesterday in the Ottawa Citizen on May 15, 2022.
Sincerely,
Andre Szilvassy
President, PAL Canada Foundation
---
"Alison Atkins died September 4, 2021, at her home in Ottawa, finally relinquishing control of her to do list. Ali described herself thus: "My Value is Love and my Purpose is Service." She truly lived this mantra in her contributions to all she came across, whether at work, with family, with friends, volunteering, or simply out running errands. If she could find a way to offer assistance, Alison would do so, joyfully and with full presence.
Born in Chicago, IL and moving to Canada as a toddler, Alison was a lifelong explorer. She explored the outdoors endlessly through gardening, leading groups through the Canadian wilderness by canoe, cycling, skating, skiing or taking long treks on foot. When required to be indoors, Ali was drawn to explore the vast inner landscape of the beingness of humans. Her infinite curiosity drove her to contribute as a highly effective transformational leadership and executive coach.
Alison's father, Robert "Tom" Atkins left earlier in 2021 to prepare to welcome her across the veil. Alison was also predeceased by her sister-in-law Judith Schwartz. She leaves her indelible imprint on her daughter Kendra Anne Mari Atkins, son-in-law Jay Forest, beloved granddaughters Addison and Willa, mother Virginia (Gorman), brother Andrew (Patti), sisters Sara (Paul McFarlane) and Emily, nieces, nephews, great-nieces and -nephews, and countless friends.
All are welcome to join in celebrating the life that Alison led, the light she shone and the impact she had on Sunday, May 29th from 1-4pm at Billings Estate grounds, 2100 Cabot Street, Ottawa, ON. There will be an informal, non-denominational program, followed by an opportunity for those in attendance to share their memories of how Alison touched their lives. Everyone is also welcome to contribute to her rememberance online at:
https://www.forevermissed.com/alison-atkins.
In lieu of flowers please consider making a donation to PAL Ottawa, where Alison served from its idea stage in 2008 through incorporation and operations until her death."
To plant a tree in memory of Alison Atkins, please visit Tribute Store.