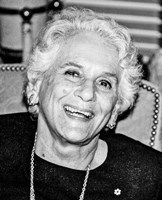 I had the privilege of becoming a friend of Shirley Greenberg in later life. We met at a PAL Ottawa event "Don't Quit Your Day Job" and through Harvey Glatt, a member of PAL Ottawa's Advisory Committee became better acquainted.
We became friends over our mutual concern for the health of one PAL Ottawa's founders, the Ottawa Artist Jerry Grey, a close friend of Shirley's and my mother Polly Hill. As our correspondence and friendship grew, I came to realize what an extraordinary person she was. She had it all: a great sense of humor and fun, razor sharp mind, compassion beyond most of us and above all modesty about all she had done and was doing. A shining example of how to be a good human being. Her generosity to PAL Ottawa in doing something about the plight of affordable housing for older arts workers in our community as they age through the development of PAL Place was enthusiastic and full of helpful advice. She left many good friends, some of whom are now valuable volunteers in the PAL Place Campaign Cabinet. When PAL Place opens in 2024 a name that will be celebrated at that ceremony will be Shirley's for her timely support and encouragement.
Our condolences go out to her family and her many close friends.
Sandy Mackay-Smith
PAL Place Campaign Organizing Committee – Chair
---
Please click here to read the obituary for Shirley published in the The Globe and Mail on May 28, 2022.
Donations in Shirley's name to any of the organizations Shirley supported would be greatly appreciated by the family. These include the Retirement Living Unit Assistance Fund at Unitarian House and the Bruyère Foundation.